As you may have gathered from the color scheme, borders, name plate, or maybe if you aren't very observant and just know me so well, I am a huge Mets fan. My family moved into a new home when I was 12 and I was allowed to choose the colors of my new bedroom walls. My choices: blue with orange borders. If I were allowed to paint any of the walls of my house now, I doubt my choices would be any different. There was a time in the 1980's when being a Mets fan carried clout, cachet even. Alas, these are dark times to be a fan of the Nine from Flushing, but as with any marriage, I will root for them in sickness and in health, 'til death do us part (even if I am incarcerated for murdering Fred Wilpon). Anyway, when I was going through the "Great Purge" of cards, I could not part with my Metsies, so I decided they would get special dispensation. I have over 10,000 Mets cards spread over 2 monster boxes, a top loader-laden shoe box and several binders. I did part with about 3,000 or so doubles, but as in any streamlining process, redundancies must be eliminated.
My Mets binders (one of which is featured at the very top of this blog with a brand new mascot courtesy of card blogging's best bronie, dayf from
Cardboard Junkie
) are some of my most eclectic and meticulously kept. Choosing 800 or so cards out of 10,000 is not an easy task. Then, picking a couple pages from all those is even tougher, so this will no doubt be a series on my beloved team.
I do like to keep pages on current star players. This page of Johan Santana features some of the many many incarnations of his 2011 Topps card. I picked up a few from bloggers and then decided to augment that with some from
COMC
to complete the effect. Parallels are here to stay, so instead of complaining, I embrace the concept with a tight squeeze: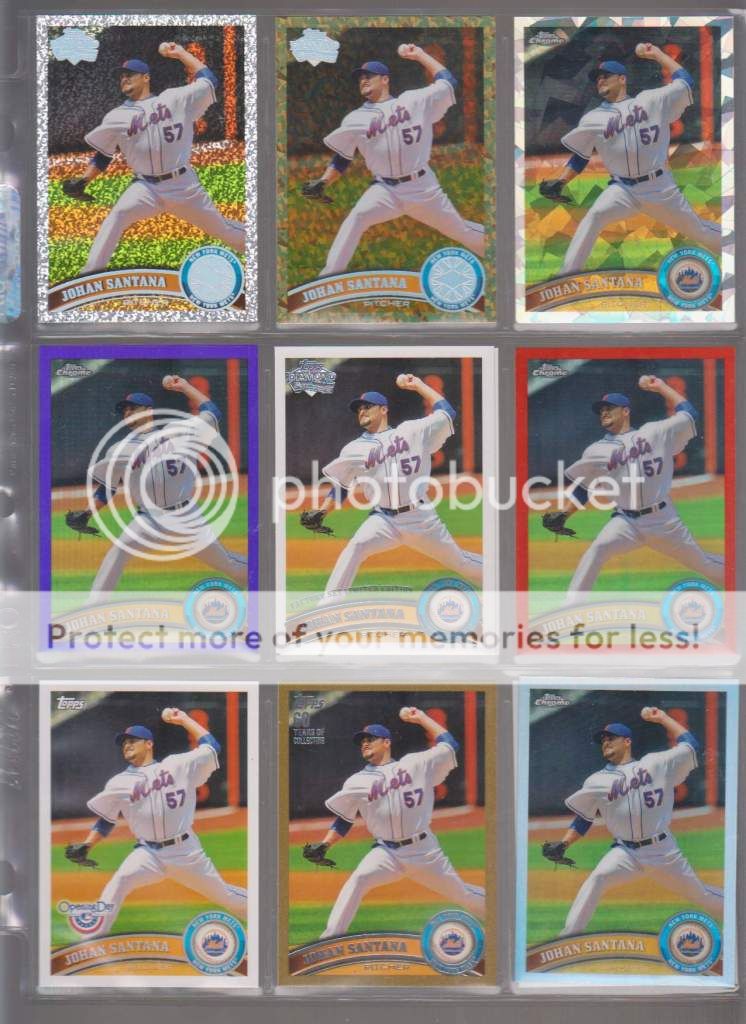 Keeping with the parallel theme, here are some Topps Gold Mets in all their serial numbered glory:
And some late, great Fleer Gold Medallion:
Want to know why the Mets are so awful? Because of pages like this:
I follow the Mets closer than my own family and I have never heard of any of those guys.
These are some longwise game-used cards and a Fan of the Game insert that seems to have wandered in from another page. I can be a slave to my own aesthetics and ruin the whole thing at the same time:
I do like to me some faux-retro vintage,
and actual vintage vintage.
And finally a page that is a reminder that at one time, the Mets actually played in (and won!) World Series. Heck, we were once the most hated and feared team in the league, rather than the most reviled and pitied.
Ahhh, the good old days, may they return.