Fear not, intrepid Starting Nine readers (of which, I believe there are nine of you), I have not abandoned my posting; I was just on a little pleasure trip to my old stomping grounds of Boston. I went to see some good friends and to see a Sox game. I would really have liked to have gone to see the 100th anniversary of Fenway on Friday, but alas, I could not get tickets to that game - not without skipping a mortgage payment anyway - so I settled on Saturday afternoon's game. Red Sox vs. Yankees. The Greatest Rivalry in Sports
® etc., etc. It was such a beautiful afternoon. I was with my Sox fan friends. We had damn good brews at the Boston Beer Works before the game
(only poser pink hat fans go to the Cask and Flagon)
. By the fifth inning, the Sox were up 9-0 and all was right with the world.
Everything was going so well.
And then...and then it all fell apart and something happened that has shaken my baseball fandom to the core - and remember, I am a Mets fan first and foremost so that is saying something. The Red Sox coughed up that nine run lead. And almost once over again. They gave up seven in the seventh and seven in the eighth. I was stunned, stymied, dumbfounded, and pissed. I did something I have not done in 25+ years of going to baseball games. I left early. I looked at my buddies and said, "I need beer. Right now...and they stopped selling them. Let's go." and I left. I am kind of mad at myself for doing that. I am also friends with far too many Yankees fans who left all form of nasty messages on my phone and facebook. Sure, those first six innings were fun, but besides that, how was the play Mrs. Lincoln? Yes, the Red Sox shot me in the back of the head.
It was a bad day for baseball.
It is with that backdrop that I present the 2004 Upper Deck Rivals.
It is a set featuring the Red Sox and the Yankees and it was sold as a complete set in hobby outlets.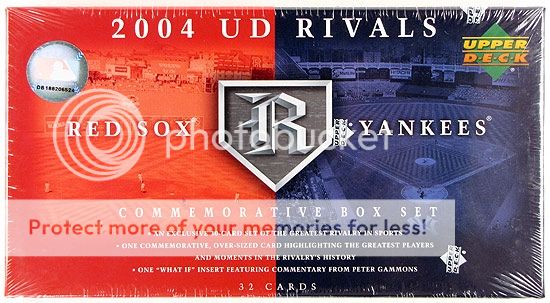 It has 30 cards, which, out of some fit of laziness, I did not scan all of. I probably skipped some of the Yankees. I guess I am still mad.
Upper Deck did a bunch of these types of sets in the mid-aughts. It is kind of a fancier version of the old Fleer boxed sets sold in drugstores and toy shops in the 1980's, but who cares? It has a bunch of classic photos and players and the Rivals section with contemporary positional match ups are well done and pretty awesome.
When I got this set in 2004, a local card shop (one of those overpriced mall-type ones that I don't frequent) was having a signing with Peter Gammons, who has cards highlighting What If? scenarios in the set.
The odd thing is that, at the time, my girlfriend worked directly with Gammons' nephew; I probably could have met him any time I wanted. But as it turns out, I met him at the mall. And he was very affable and friendly, we had a brief conversation about music and baseball (and his nephew) and he signed my big ass card. That was a good day.
I have a few Red Sox sets, a couple from their World Series wins and this one, which was made right
before
they actually won it all in 2004. This was at the very pinnacle of Red Sox/Yankees hostilities. The 2003 ALCS was an all out war (brought to a nasty conclusion by Aaron bleeping Boone). Then the 2004 ALCS happened. The Sox came back from down 3-0 in the series to win. And now, eight years later, they are choking away nine run leads. Baseball is a funny, brutal game. As you can tell by my rambling, I am still overly affected by yesterday's debacle. I will reel it in and head for the big finish. This set is in the binders because the Red Sox are my baseball mistress. I don't love them like my wife, but I adore them all the same. If they keep playing like they did yesterday, there won't be anymore sets for me to add to this one for a long long time.