Alternate
subject
:
Vacation
, all I ever wanted.
I have been traveling up and down the eastern seaboard the last five weeks or so. I spent some time in Boston, some in Philly, some down the shore; some of it was work, some of it (well, most of it) was play but the all encompassing thread of this past month plus or so was I spent most of it unplugged from civilization. I find it best to spend some time away from the online world during the summer. Oh, I checked my email from time to time and even answered a few of them but for the most part, instead of the usual 10+ hours around the computer a day, I have spent maybe 10 minutes or so a
week
. Besides, sitting on a beach with an ipad or laptop is just plain wrong; a book or a newspaper is far more preferable.
So I have been away from home and the internet for a while and with that, my blogging obviously dropped down to zero. And that after I had gotten a pretty good momentum going in July too. What also got lost amongst my prolonged absence are a few trades. Fear not! All of them are still on my radar and I will fulfill and complete them soon. Of course, if we had corresponded about a swap and you haven't heard from me, feel free to drop me a line. I promise it won't take me a month to get back to you.
One thing about being away from home for a week or two is that the mail piles up something awful. Most of it is junk mail, or worse, bills (why do they still send paper bills when I pay most things online?) but one of the exciting things is the little manilla Jiffy packs that intersperse those unwanted pieces of mail. A few of them were forgotten ebay purchases, but the best ones were overzealous traders who sent me stuff first.
First off is a first, a reader and fellow Mets fan named Steve
without
a blog who sent me some stuff from my wantlist:
He had some doubles to fill my brand pages. Very much appreciated, Steve. I have a package of Mets for you that will hopefully find the mail by the end of the week. Plus, time and my scanner willing, I will have those completed pages up on the site soon as well.
Next is Brian from
30 Year Old Cardboard
who had some of this year's Allen and Ginter up for trade:
He completed my "What's in a Name" page and I sent him, um, I think a Jim Palmer card? My memory is fuzzy, but I am pretty sure I actually sent it out to him. *UPDATE* I checked, it is.
Up next is my favorite part of this blog: altruism and reciprocation. I recently sent
Thorzul
some random shiny Brewers cards I had laying around. Sometime in the last month or so, he returned the favor:
I love that Franchise Favorites card, the blue goes well with the Mets. Even better is the orange refractor from 2010. I like those so much, I might see if I can drum up seven more to make a Mets orange refractor page from that year (I have the David Wright too). Plus, Piazza cards I don't have are always well received. Last is that Brian Harper card, proving Thorzul really reads my wantlists closely. I noticed I still haven't posted my big post about this. I will have to get around to that.
Lastly, in this pile were these three mystery cards: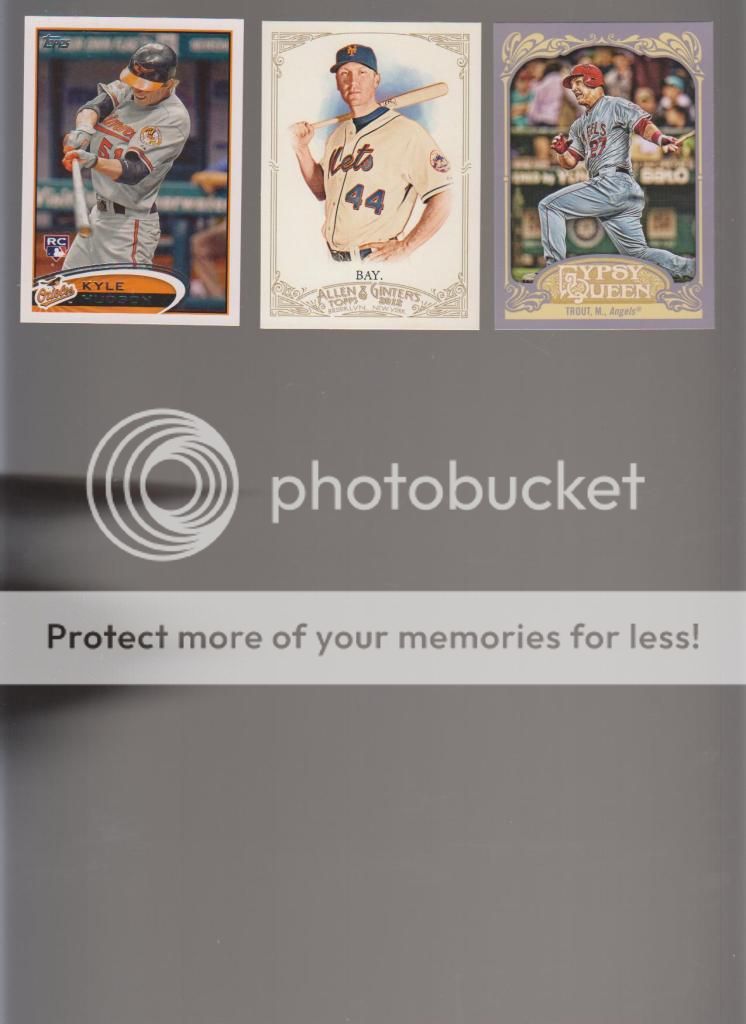 I am pretty sure the Jason Bay came in with the What's in a Name cards from Brian. I think maybe I meant to put that Orioles card in a package for Kevin from O's Card of the Day, but that package already went out. And the Mike Trout? I am slowly becoming a Mike Trout devotee but I am not sure where this card came from. Did I get it from someone? Did I promise it to someone? Did I just put it aside for me and it wondered into this pile? I dunno. I am also aware that I owe both Robert from
$30 a Week Habit
and Shane from
Off the Wall
trade packages. They will go out soon. If there is anyone I missed, please let me know. Getting back into the swing of the real world takes all the help you can get. Plus, now that I am back, there is so much to cover, both coming up and that I missed: the Mets collapse, the beginning of football, etc. etc. So rest assured, I am back and will be here and blogging again...you know, as soon as I figure out how to pay all those aforementioned bills.